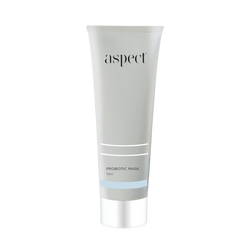 Aspect Probiotic Mask 118ml
We accept:  
DESCRIPTION:
A bestseller, Probiotic Mask combines nourishing Shea Butter with a soothing blend of botanical oils including Olive Oil, Argan Oil and Sunflower Seed Oil. This luxurious mask is infused with ProRenew Complex CLR™, a probiotic known to calm and soothe while protecting skin from external free radicals.
The Fruit Enzyme Complex blends Pomegranate and Acai Berry, both rich in antioxidants and the addition of Vitamin B5 helps to maintain hydration and nurture skin.
The ultimate pick me up that will hydrate and restore a radiant glow.
Use 1-3 times a week to energise and hydrate skin. Can be used overnight to hydrate and soothe while you sleep. Can also be used for multi-mask application with other Aspect Masks
BENEFITS:
•  Restores a youthful glow
•  Soothes & hydrates
•  The ultimate pick me up
KEY INGREDIENTS:
•  Shea Butter
•  ProRenew Probiotic Complex CLR™
•  Vitamin B5
•  Olive Oil, Argan Oil & Sunflower Seed Oil
•  Pomegranate & Acai Berry
DIRECTIONS:
AM or PM: Massage a large pearl sized amount onto face, neck and décolletage. Leave for 20 mins. Remove with a damp cloth using a gentle, sweeping action. Follow with serums and moisturiser. Repeat 1-2 times a week or as required.
Tip: Leave on overnight to intensify results.
YOUR GO TO SKINCARE PRODUCT FOR:
•  All skin types 
•  Dry Skin
•  Dehydrated
•  Sensitive