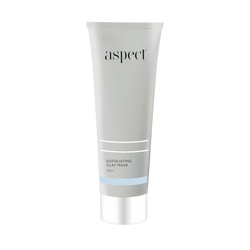 Aspect Exfoliating Clay Mask 118ml
We accept:  
DESCRIPTION:
A creamy clay mask that targets impurities while it exfoliates and smooths skin. This mask will deep clean the skin while refining skin texture and tone, revealing a radiant healthy-looking complexion that is smooth to the touch.
Formulated with Kaolin & Bentonite Clay help to soak up excess oil and target impurities. Lactic Acid (AHA) to refine and exfoliate and Salicylic Acid,a BHA that works to lift build-up of dirt and debris.
An Aspect skincare essential that will restore clarity and refine skin. Can also be used for multi-mask application with other Aspect Masks.
BENEFITS:
•  Purifying
•  Soothing & calming
•  Exfoliates and smooths
KEY INGREDIENTS:
•  Kaolin & Bentonite Clay
•  Lactic Acid (AHA)
•  Salicylic Acid (BHA)
DIRECTIONS:
Usage AM or PM: Apply a large pearl sized amount to clean skin and spread over face evenly. Leave for 10–15 mins or until dry. Remove with a damp cloth using a gentle, sweeping action. Follow with serums and moisturiser.
YOUR GO TO SKINCARE PRODUCT FOR:
•  Excess oil 
•  Problematic skin
*Not Recommended for Pregnant or Lactating Women