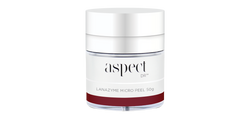 Aspect Dr Lanazyme Micro Peel 50gm
We accept:  
DESCRIPTION
An advanced enzyme gel formula containing a complex of fruit enzymes, Pumpkin Ferment Extract and Lanablue ™ that work synergistically to exfoliate lifeless skin cells and smooth skin texture, revealing a more radiant complexion.
Reduces the look of fine lines and wrinkles
Increases cell turnover
Smooths skins surface
Prepares skin for maximum absorption of active ingredients
KEY INGREDIENTS
• Lactobacillus/Pumpkin Ferment Extract | Rich in enzymes and antioxidants that work to gently exfoliate and visibly brighten skin, leaving a smoother, more illuminated complexion.
• Lanablue™ | A phytoretinoid derived from blue-green algae, that helps to achieve the results of Vitamin A with the minimised risk of irritation.
• Vitamin A, E & C | A powerhouse vitamin complex to help illuminate appearance.
• Fruit Enzyme Complex | A blend of Pineapple, Grapefruit, Gojiberry, Melon, Acai Berry, Raspberry and Mangosteen to help remove lifeless cells and smooth skin texture.
• Malachite Extract | A mineral extract rich in trace elements and copper that provides hydration while supporting skin recovery.
• Coffee Extract | Helps to re-energise and combat lacklustre skin.
DIRECTIONS
Apply a large pearl sized amount and massage into dry skin until gel liquefies and pilling occurs. 
For sensitive skin, apply and do not massage. Leave on for 5-15 mins. Remove with a damp cloth using a gentle, sweeping action. Follow with serums and moisturiser. Use 1-2 times a week or as required.
YOUR GO TO SKINCARE PRODUCT FOR:
•  All skin types 
•  Ageing skin
•  Problematic 
•  Pigmentation 
•  Dehydrated
MADE WITHOUT: Synthetic Fragrance, Animal products, SLS, Parabens