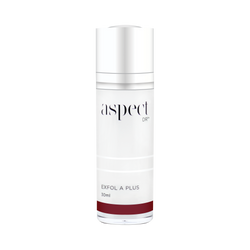 Aspect Dr Exfol A Plus 30ml
We accept:  
DESCRIPTION
Exfol A is the refining, anti-ageing vitamin A serum combining the power of Lactic Acid, Lanablue™ and Retinol to smooth skin texture and allow for ultimate absorption of other ingredients.
Reduces the look of fine lines and wrinkles
Highly effective rejuvenating and exfoliating serum
Evens skin texture, colour and tone
Exfoliating properties allow for ultimate absorption of other ingredients
Addresses problematic skin concerns
KEY INGREDIENTS
• Retinol Molecular Film Fluid | Enhanced stable delivery of Retinol using a Vitamin E antioxidant-rich complex. Retinol helps to minimise the visible appearance of all signs of ageing, such as fine lines & wrinkles, sagging, loss of firmness and pigmentation. It also works to address problem skin concerns such as blemishes, congestion and regular breakouts.
• Lanablue™ (Aphanizomenon Flos-Aquae Extract) | A blue-green algae, known for its Retinol mimicking ability.
• L-Lactic Acid | Resurfacing Alpha Hydroxy Acid that hydrates and smooths the skin's surface while complementing the activity of Retinol and Lanablue™.
DIRECTIONS
Application night only*: A highly active serum to be introduced gradually based on skin tolerance. After cleansing, dispense 1 pump and press onto skin every third night increasing to every second, then nightly. Should be applied first, before layering other serums.
*Always use a maximum SPF while using this product. 
YOUR GO TO SKINCARE PRODUCT FOR:
•  All skin types 
•  Ageing skin
•  Problematic 
•  Pigmentation 
•  Dehydrated
•  Those looking for a vegan friendly vitamin A exfoliant
MADE WITHOUT: Synthetic Fragrance, Animal products, SLS, Parabens
Caution: 
Not recommended for pregnant or lactating women

Not recommended for those with seafood allergies