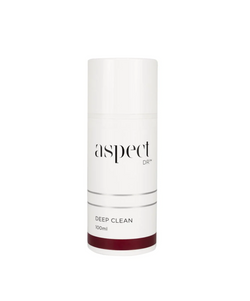 Aspect Dr Deep Clean 100ml
We accept:  
DESCRIPTION:
Deep Clean is a purifying cleanser formulated with a blend of naturally occurring AHA's and Lanablue™, known for its retinoid-like properties to exfoliate and refine skin. 
KEY INGREDIENTS
•  L-Lactic Acid | An Alpha Hydroxy Acid that assists with hydration and micro-exfoliation, improving skin tone and texture.
• Organic Hydrafoam™ | A coconut and cane sugar derived SLS alternative.
• Canadian Willowherb™ Extract | A botanical antioxidant that soothes and comforts the skin, whilst fighting free radical damage to combat the visible signs of ageing.
• Lanablue™ (Aphanizomenon Flos-Aquae Extract) | A blue-green algae, known for its Retinol mimicking ability
BENEFITS:
•  Effectively cleanses the skin
•  Gently exfoliates and refines, smoothing skin texture
DIRECTIONS:
Application morning & night: Dispense 2–3 pumps and emulsify with water. Massage onto face using circular motions. Remove with a cloth using a gentle, sweeping action. Repeat process if wearing makeup or water resistant sunscreen.
YOUR GO TO SKINCARE PRODUCT FOR:
•  All skin types 
•  Problematic, congested skin 
•  Pigmentation 
•  Those looking for a vegan friendly cleanser
MADE WITHOUT: Synthetic Fragrance, Animal products, SLS, Parabens
Caution:
Not recommended for pregnant or lactating women

Not recommended for those with seafood allergies