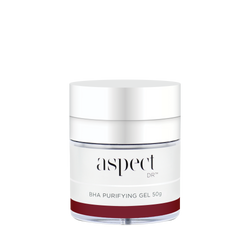 Aspect Dr BHA Purifying Gel 50g
We accept:  
DESCRIPTION:
Formulated with Salicylic Acid, this lightweight BHA Purifying Gel from Aspect Dr helps to address problematic skin, blemishes and minimise excess oil to clarify  complexion. Can be used all over, in localised areas or as a spot treatment
FORMULATED WITH:
• Benzalkonium Chloride, Isopropyl Alcohol and Sodium Citrate | An innovative complex of ingredients that allows BHA's and AHA's to work more effectively.
• Citric Acid | An AHA that works to exfoliate skin to clarify and reduce uneven texture, promoting a smoother, clearer complexion.
•  Salicylic Acid | A BHA that works to lift excess oil, dirt and debris, helping to minimise the appearance of large pores and congestion.
• Glycerin | A plant based humectant that helps prevent transepidermal water loss, maximising hydration levels and plumping the skin.
BENEFITS:
•  Clarifies and refines without drying the skin
•  Works to reduce breakouts and promotes a clearer complexion
•  Smooths skin texture
DIRECTIONS:
Application once daily: Recommended for use at night. Apply first, before layering other serums. Dispense 1 pump and apply to the skin after cleansing. Follow with moisturiser. Can be used all over for oily skin or localised for problem areas.
*Always use an SPF while using this product. 
YOUR GO TO SKINCARE PRODUCT FOR:
•  All skin types 
•  Problematic and blemish prone skin
•  Excess oil
•  Those looking for a vegan friendly suitable for problematic skins & breakouts.
MADE WITHOUT: Synthetic Fragrance, Animal products, SLS, Parabens
Caution:
Not recommended for those with aspirin allergies

Not recommended for pregnant or lactating women