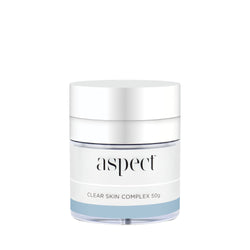 Aspect Clear Skin Complex 50g
We accept:  
DESCRIPTION:
Clear Skin Complex is an innovative gel-cream that targets common concerns associated with problematic skin, including breakouts and excess oil.
The cutting-edge formula harnesses purifying ingredients that allow AHA's to work more effectively and maximise results. Citric Acid (AHA) works to exfoliate the skin to smooth texture and clarify complexion while the hydrating base of the formulation Glycerin binds moisture to hydrate, maintaining hydration levels and keeping stressed skin calm.
This treatment product is ideal for those who experience persistent breakouts and be used all over the face or localised to areas of concern. Can also be used on the body.
BENEFITS:
•  Mattifying
•  Purifying
•  Detoxifying
•  Calming
•  Unclogs follicles
KEY INGREDIENTS:
•  Citric Acid (AHA)
•  Glycerin
•  Chelating Agent 
DIRECTIONS:
Use once daily: Apply generously as required. *Always use a maximum SPF while using this product.
YOUR GO TO SKINCARE PRODUCT FOR:
•  All skin types 
•  Excess oil
•  Problematic skin
•  Ingrown hairs