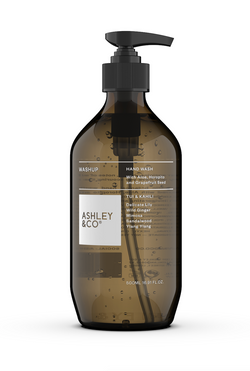 Ashley & Co Washup - Tui & Kahili 500ml
We accept:  
DESCRIPTION 
Aromatic botanical hand wash for use anytime and everyday. Bolstered with aloe, horopito and grapefruit seed, this is your habitual helper to nourish and cleanse hands, with the pick-me-up of an invigorating and balancing scent.

500ml, PH balanced and soap free
Scent Profile
Like sweet nectar enticing the Tui, notes of Wild Spreading Ginger and Delicate Lily will have you scouring the native flora for this alluring scent.
Delicate Lily
Wild Ginger
Mimosa
Sandalwood
Ylang Ylang
Mimosa & Lily excite the calming tones of Sandalwood creating a bold & boisterous impression. Entwined Wild Ginger with Ylang Ylang epitomise what has become an iconic scent of Ashley & Co's Society.