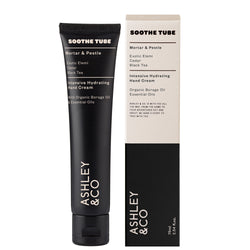 Ashley & Co Soothe Tube - Mortar & Pestle 75ml
We accept:  
Description
Nourishing botanicals of honey, camomile and sweet almond create a plush, creamy hand & body lotion to banish all scales. 
75ml
Made in New Zealand
Scent Profile
The rich hue of Cedarwood, Elemi and the dynasty of Black Tea create an exotic composition. Propagate. Pick. Grind.
Black Tea
Exotic Elemi
Cedarwood
Indian Woods
Lemon Citrus
Patchouli
Bold base notes of Cedar and Patchouli, with the infusion of Black Tea, are lifted by fragrant notes of Citrus Lemon and Exotic Elemi.