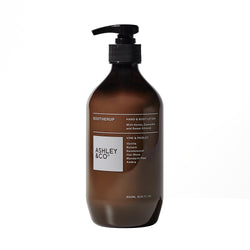 Ashley & Co Sootherup - Vine & Paisley 500ml
We accept:  
DESCRIPTION
Get smooth and Sootherup. Nourishing botanicals of honey, camomile and sweet almond create a plush, creamy hand & body lotion to banish all scales. Here for you everyday, LOVE-MATCH with our Washup for a superlative cleanse & soothe ritual.
500ML
Not tested on Animals
Made in New Zealand
SCENT PROFILE
Up there with puppies, cashmere sweaters and a piñon camp fire this earthy mix uses notes of Vanilla, Balsam and Sandalwood to create a feeling of warmth and security. 
Vanilla
Balsam
Sandalwood
Oak Moss
Mandarin Peel
Ambra
Dominant Vanilla, not candy sweet, is framed by lively hints of Citrus Mandarin Peel. A woody, oriental scent softly rounded by Sandalwood, Moss and Balsam base notes.