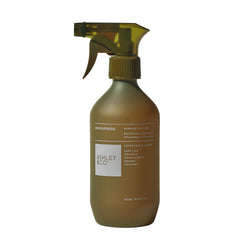 Ashley & Co Homekeeping - Bench Press Surface Cleaner
We accept:  
Description
Introducing your naturally astringent counter top companion and all-rounder surface spray. Benchpress is a biodegradable blend bolstered with essential oils like citrus, clove bud and cinnamon bark. Effective without the use of harsh ingredients, Benchpress is gentle on skin and leaves surfaces spotless and fresh.
Scent Profile: Lotus Leaf and Lustre
The lotus effect — a self-cleaning phenomenon like no other. Add some lustre with the sharp notes of Kaffir Lime, softened by Caramellic undertones and enveloped with the warm scent of Spicy Clove and Cedarwood.
Kaffir Lime
Clove Bud
Cinnamon Bark
Caramel
Coriander
Like pantry basics, the candid Citrus make up the top notes of this balanced scent. The pairing of Kaffir Lime & Orange with Nutmeg & Clove Buds on top of a woody base combine to create the perfect all rounder.
Ingredients
Water
Lauryl Glucoside
Phenoxyethanol
Sodium Coco-Sulfate
Parfum
Ethylhexylglycerin
Citric Acid
 100% Biodegradable
Free of SLS & Parabens
Naturally plant-based.
500ml
Made in New Zealand