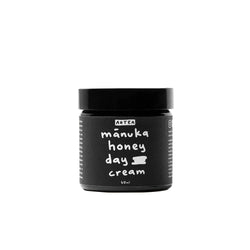 Aotea Mānuka Honey Day Cream 60ml
We accept:  
DESCRIPTION
A lightweight day cream formulated to nourish sensitive skin, soothe irritations and blemishes, whilst increasing hydration in the skin. What we put on our skin is ultimately absorbed into our body; which is why our Mānuka Honey Day Cream contains only the most natural and restorative ingredients. Mānuka Honey has a high moisture content, which can naturally draw moisture to the skin and will leave your skin feeling hydrated for longer. This day cream also contains kawakawa infused sweet almond oil, providing strong anti-inflammatory properties, ideal for reducing redness and blemishes.
Handmade in small batches on Aotea. Product may vary slightly from batch to batch.

DIRECTIONS
Apply a generous amount to your face and neck in the morning after cleansing with Kūmarahou and Mānuka Honey Cleanser and applying Mānuka Water and Kawakawa Toner.