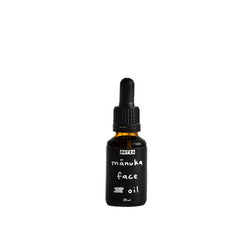 Aotea Mānuka Face Oil 25ml
We accept:  
DESCRIPTION
Mānuka Face Oil has been designed to create a protective barrier against harmful environmental toxins while healing and nourishing your skin. It features the anti-microbial and cleansing mānuka oil as well as kawakawa infused sweet almond oil. Mānuka oil is well known for its ability to deeply cleanse the skin and treat inflammation.
Combined with hydrating and antioxidant-rich oils; jojoba, blackcurrant and grapeseed, this Face Oil can be used daily. An incredible formulation that truly nourishes and protects the skin.