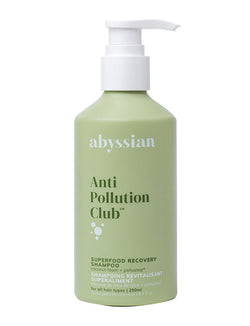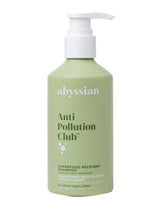 Abyssian Superfood Recovery Shampoo 250ml
We accept:  
DESCRIPTION
The Superfood Recovery Shampoo will supercharge your daily hair routine without weighing down your strands. A clean formula that makes the perfect daily shampoo for every hair type including fine hair: gentle suds, castor oil, and Abyssinian oil. Totally silicone-free.
This dream daily shampoo has enough foam to cleanse properly, using botanical extracts rather than silicone to condition the hair and prevent build-up whilst keeping your hair smelling fresh even on a hot summer evening. Protect your hair from pollution particles and the oxidative effects of city life, without the scalp sensitizing / endocrine disrupting / cancerogenic prone ingredients. Ensure your morning shower is your first healthy step of the day.
Daily light shampoo for all hair types with no build-up
Gentle cleansing with Coconut based SLS-free formula
Super glossy results with superfood Abyssinian kale seed oil
Protect hair with Pollustop®, a patented antipollution complex
No nasties, no silicones, 99% natural / plant-based ingredients