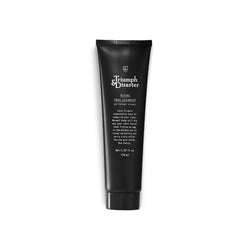 Triumph & Disaster Ritual Face Cleanser 150ml
We accept:  
DESCRIPTION
Less is more. Especially when it comes to your face. Cleaning with normal soap will strip skin of natural oils and protective qualities leaving it dry and ex- posed. 'Ritual Face Cleanser' has been formulated to avoid drying and irritation by exploiting the natural benefits of Tamanu oil, Peppermint oil, Willow bark extract and Bentonite clay. A gentle, natural, peppermint scented formulation designed for everyday use 'Ritual' gently dissolves grime while toning the skin, leaving you feeling fresh and looking bright.
150ml plastic tube
Things you need to know
1/ Rich in Tamanu oil from Poly- nesia, an antioxidant wonder oil used to heal scars, treat burns and generally save skin.
2/ Natural based anti acne proper- ties, perfect for oily skin, teenage skin or adult acne.
3/ A gentle Peppermint scented, natural formulation designed for everyday use. Free of harsh chemicals and will not dry out skin. 
KEY INGREDIENTS
Peppermint Oil: Bursting with the good stuff, con- taining minerals and nutrients like: manganese; iron; magnesium; calci- um; folate; potassium and copper. It's also got omega-3 fatty acids, Vitamin A and Vitamin C under its belt. It's a natural stimulant and healer.
Kaolin / China Clay: Is soft white clay named after the hill in China (Kao-ling) where it was first mined. Used for centuries to make Chinese porcelain when kaolin is mixed with water it can be molded under pressure.
Tamanu Oil: Has been used for centuries by native Tahitians to coat their bodies when bathing, preparing for war and during courtship. It's now widely considered a modern day wonder plant, renowned for its antibacterial and healing qualities which promote elastic, supple skin.
ALL INGREDIENTS
Aqua (Water), Sodium Lauroyl Glutamate, Sodium Cocoyl Isethionate (Coconut Extract), Sodium Chloride, Bentonite (Clay), Xanthan Gum, Decyl Glucoside (Sugar), Dehydroacetic Acid, Benzyl Alcohol, Calophyllum Tacamahaca (Tamanu) Seed Oil, Salicylic Acid (Willow Bark Extract), Mentha Piperita (Peppermint) Oil, Kaolin (Clay), CI 77499 (Black Oxide), Citric Acid.