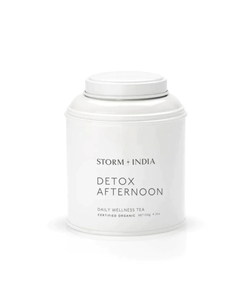 Storm + India Detox Afternoon Tea (120g Loose Leaf)
We accept:  
DESCRIPTION
Storm + India's delicious fermented wellness tea is made from certified organic ingredients from Chinese and European Tea Gardens. A delicious blend to support your mood and energy levels through the afternoon. This blend of mood-boosting ingredients is designed to give you the sweet taste you are craving but curb further sugar cravings. An intriguing blend of fermented earthy pu'erh, organic rooibos, strawberries and a hint of vanilla.
PU'ERH TEA - The fermentation process used to make Pu'erh tea naturally produces a neurotransmitter which promotes relaxation and reduces anxiety.
ROOIBOS - Rooibos has been shown to have a calming effect on the production of cortisol - our main stress hormone which can rise throughout the day leaving you feeling drained but unable to sleep.
NANA MINT - Nana Mint provides an uplifting scent and digestive support post-lunch, effective digestion helps to reduce afternoon fatigue.
SUSTAINABLE DESIGN
Storm + India modern tea tins were created to keep the organic loose leaf tea fresh and retain its aromatic flavour. The sustainable food grade tea tin has been designed with two lids to protect the tea from light, air and humidity. The tea tins are packed in recycled cardboard boxes printed with plant-based inks. The brand creates a cool design statement on any kitchen bench or workplace shelf. 
DIRECTIONS
To serve: Straight black. Drink one to two cups per day.
Measure: 1 teaspoon per cup
Brewing temperature: 100°C
Brewing time: 3 minutes
INGREDIENTS
Pu'erh Tea*, Rooibos*, Black Tea*, Nana Mint*, Honeybush*, Strawberry Bits*, Vanilla bits*
*Certified Organic
Contains Caffeine 
Certified by BioGro New Zealand. Certified Organic, Vegan & Plant-based.