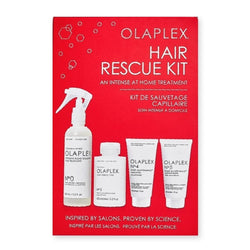 We accept:  
DESCRIPTION
Hair Rescue Kit includes the cult classic, bond-building hero Nº.3 Hair Perfector, available in the Kit in its full size. The good hair days don't stop there in this intense hair rescue kit formulated to improve hair health.
The Kit also includes:
Nº.0 to boost Nº.3's power for 68% stronger hair, plus deluxe samples of color-safe
N°.4 and N°.5 shampoo and conditioner.
Includes:
NO 0 INTENSE BOND BUILDER #0 Full Size 155 ml
An at-home Intensive Bond Building Hair Treatment to be used before the Olaplex No.3 Hair Perfector providing a more intense repair than using No.3 alone.  It works to prime your hair for a deeper repair - whilst strengthening and rebuilding hair bonds. 
Apply No.0 to DRY hair - fully saturate your lengths in sections. Process for 10 minutes and then without rinsing - apply No.3 Hair Perfector over the No.0 applied.  Let process for minimum 10 minutes to repair and strengthen damaged hair of any hair type. 
NO 3 HAIR PERFECTOR #3 Full Size 100 ml
Builds and repairs broken hair bonds while increasing elasticity and restores hair to its natural texture and state. It is a concentrated hair treatment which will do all this as well as increase your hairs natural shine! With bond-building technology, your heat damaged bonds will re link and restore your healthy hair. Olaplex #3 is made for all hair types and will repair from within. 
NO 4 SHAMPOO #4 Mini 30 ml
Olaplex No. 4 the now world famous shampoo, works to cleanse, repair, strengthen and protect your hair by repairing bonds whilst giving all hair types a gentle cleanse. Feeling moisturised, stronger and more manageable - your hair will be shinier and healthier with each use. 
Repairs and maintains bonds within the hair
Reduces breakage
Eliminates frizz and flyaways
NO 5 CONDITIONER #4 Mini 30 ml
Olaplex No. 5 is a highly moisturising and repairing conditioner that protects your hair from every day stresses including damaged hair, frizz and split ends. The Olaplex #5 formula works by relinking broken bonds whilst remaining colour safe and not adding excess weight. For stronger, healthier and shinier hair.