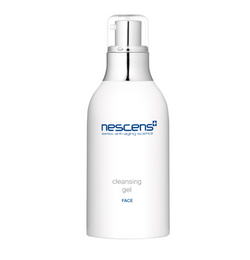 Nescens Cleansing Gel - Face 130ml
We accept:  
Description
Nescens Cleansing Gel combines an effective and non-aggressive cleansing base with an anti-drying complex. It was specifically designed to be used as daily face and neck hygiene in preparation for any Nescens skincare product.

- Cleanses the skin thoroughly
- Removes dead cells and impurities
- The skin recovers luminosity and softness
- Provides a pleasant feeling of comfort
- Leaves skin clean and revitalized
- Protects the natural hydrolipidic balance of the skin

Active Ingredients

Sodium and disodium cocoyl glutamate - excellent cleansers, even in hard water
Coco-betaine: removes impurities from the skin.
Tocopherol: helps maintain the ideal level of hydration of the skin.
Panthenol: stimulates the synthesis of epidermal lipids. Its hygroscopic properties favor hydration.

Directions

As part of the Nescens cosmeceutical skincare program, use Nescens morning and evening cleansing gel for optimal skin preparation. Continue with the application of Nescens metabolic activator toner. For men and women.