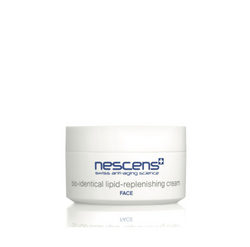 Nescens Bio-Identical Lipid Replenishing 50ml
We accept:  
Description
With Nescens Bio-Identical Lipid Replenishing Cream, the unpleasant feeling of dry skin is a thing of the past. The most important sensation you want to feel after applying a cream for dry skin is an immediate feeling of hydration. Your skin will regain substance, volume, and comfort. Nescens researchers have developed a treatment for the offset and reactivation of the elements that the skin needs to restore its ideal moisture levels. These elements, called lipids, would otherwise naturally deteriorate. This process needs to be offset to ensure the skin's optimal hydration. Unlike other creams you might have tried which did not deliver results, Nescens Bio-Identical Lipid Replenishing Cream not only instantly penetrates into the superficial of the epidermis, but it naturally boosts the lipid replenishment process. You will finally enjoy the pleasant sensation of comfort that only deeply moisturized skin can ensure. The process at the heart of our formula, consists of the replenishment of the skin lipids, which makes the skin look young again, and feel firm, toned, and supple. Its surface appears smoother and silkier, for a more radiant complexion.

Cosmeceutical benefits:
- Deep and long-lasting rehydration of the epidermis from the first applications.
- Improvement in the skin's mechanical properties: resilience, elasticity and firmness.
- Significant reduction in micro-folds and fine lines.
- Normalization of excessive desquamation related to dry skin.
- Smoothing of surface roughness.

Description
Nescens Bio-Identical Lipid Replenishing cream can be used both in the morning and at night over the entire face and neck.