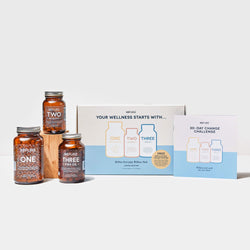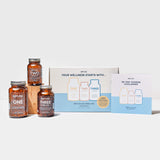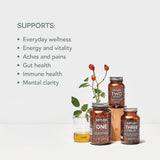 BePure Everyday Wellness Pack (30-Day Supply of One, Two, Three)
We accept:  
DESCRIPTION
Designed to provide the baseline nutrients and probiotics essential for supporting your everyday wellbeing, in just three easy steps.
BePure Everyday Wellness Pack Contains: BePure One, BePure Two, and BePure Three + 30-day Change Challenge. Total value = $216, discounted price = $159
BePure One (150 capsules): An all-in-one multivitamin packed with over 50 high-quality, powerfulingredients in a highly bioavailable form.
BePure Two (60 capsules): Advanced daily probiotic which provides the body with a powerful dose of beneficial bacteria.
BePure Three (60 capsules): High-quality, high-strength omega-3 fi1h oil sourced from the Sou1h Pacific and made in New Zealand from imported 1 ingredients.
30-Day Change Challenge: Ready to feel the difference? Based on years of clinical practice, science and research, the BePure Everyday Wellness Pack has been scientifically formulated to provide baseline nutritional support for everyone, every day.

INGREDIENTS
Refer to BePure One, BePure Two and BePure Three's product pages for full ingredients lists.

DIRECTIONS
Take 5 x BePure One capsules, 2 x BePure Three capsules daily. We recommend:
Breakfast:  3 x BePure One, 1 x BePure Two, 1 x BePure Three
Lunch: 2 x BePure One, 1 x BePure Two, 1 x BePure Three
If this is your first time taking BePure One we recommend starting with 1-2x capsules per day & increasing slowly. To ensure maximum absorption, we recommend that you take BePure One with food and away from drinks such as coffee, tea or alcohol. Take 2 hours before or 2 hours after any prescription medication.
Is this pack right for me?
Suitable to take when pregnant and breastfeeding
Suitable for ages 12+
Contains strains cultured in lactose.
Precautions: Consult with your healthcare professional before using this product if:
You are on thyroid medication
Using blood thinning drugs such as warfarin
If you anticipate surgery
You experience any significant gut dysfunction including Crohns, Ulcerative Colitis, Peptic ulcer(s), SIBO/SIFO, active H. Pylori infection, Barretts Oesophagus, Diverticulitis, bowel cancer or any other gastrointestinal pathology
TAPS number (BePure One, BePure Two, BePure Three): PP6677