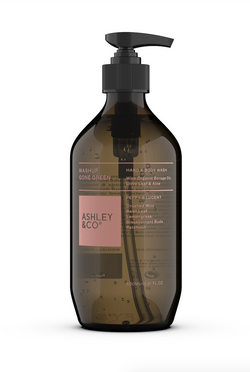 Ashley & Co Washup Gone Green - Peppy & Lucent 500ml
We accept:  
DESCRIPTION
Washup Gone Green for your hands & body smoothly removes surface and daily impurities without depleting your skin's natural moisture. Get the ultimate cleansing experience with our unique rhapsody blend of Organic Borage Oil, Olive Leaf and Aloe.

500ml, Natural Parfum
Without: Sulphates, Parabens, Mineral Oils, Colourings or Synthetic Fragrance
Scent Profile
Shoot for the Moon – Put a pep in your step with a moxie cocktail of Crushed Mint, Lemongrass stalks and buds of Blackcurrant.
Basil Leaf
Blackcurrant Buds
Lemongrass
Patchouli
Crushed Mint
Resonant minty top notes, rounded by the freshly cut stalks of lemongrass, subtle infusion of blackcurrant buds and basil leaf, master a refreshing and vibrant fusion.