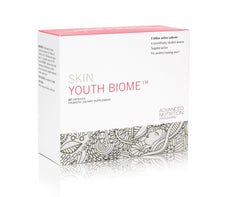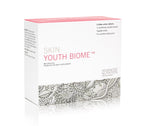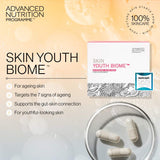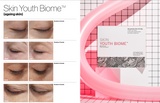 Advanced Nutrition Programme Skin Youth Biome™ Probiotics (60 Capsules)
We accept:  
DESCRIPTION
Skin Youth Biome™ delivers personalised biome-based results for you. This intelligent innovation uses the next generation microbiome technology to help target the seven visible signs of ageing:  Fine lines, Wrinkles, Elasticity, Uneven skin tone, Dullness, Dryness & Thinning skin.
Synergising together microbiome technology of six skin-friendly bacteria, including two new compounds and vitamin C. This one-a-day capsule helps deliver youthful-looking, radiant and brighter skin. Happier gut = happier skin.
Suitable for all skin types especially those seeking to support ageing, dry or uneven skin tone challenges. As well as individuals looking to brighten tired, dull-looking skin and anyone seeking additional support around the eye contour area.
In a pilot study conducted at our skin health research centre, 100% of participants experienced a positive change in one of more areas including a decrease in wrinkle depth, increase in hydration, increase in skin smoothness, improvement in transepidermal water loss (TEWL) and reduction in melanin.
Winner - Best New Skin Product – Supplement category in Marie Claire's Skin Awards 2022.
Works from the inside out
Supports the skin's natural barrier
Helps reduce fine lines
Helps support gut flora
Supports collagen formation
Supports immunity
INGREDIENTS
 
 
%NRV
Vitamin C             
12mg
 
15
Microorganism complex consists of: 
5 Billion CFUs‡ (5x10 9) at best before date:
 
Lactobacillus rhamnosus GG            
 
Pediococcus acidilactici, HA-524®
 
Bifidobacterium longum, Rosell®-175
 
Lactobacillus reuteri, HA-188®
 
 
NRV = Nutrient Reference Value 
CFU = Colony Forming Units
NRV = Nutrient Reference Value 
CFU = Colony Forming Units
Microorganism complex (Lactobacillus rhamnosus GG, Pediococcus acidilactici, HA-524, Bifidobacterium longum, Rosell-175, Lactobaclllus reuteri, HA-188) (contains SOY, MILK), vegetable capsule shell (hydroxypropyl methylcellulose), vitamin C (ascorbic acid), anti-caking agent: vegetable magnesium stearate, potato starch.

DIRECTIONS
Take one capsule per day with a meal or as your health professional advises. Supports normal, healthy gut flora and healthy, youthful looking skin.
Store below 25°C in a cool place away from direct sunlight and heat.
Caution: If you are under medical supervision, please consult a doctor before use. Keep out of sight and reach of children. This product should not be used as a substitute for a varied and balanced diet and healthy lifestyle. Do not exceed the stated recommended daily intake.